September 25, 2021
@
8:00 am
–
9:00 am
In this workshop, we will learn engagement strategies that can be utilized by art teachers of ALL levels & from ALL backgrounds.
This workshop session will be jammed packed with choice engagement strategies that can be used by art teachers at ALL levels and from ALL backgrounds! 
Learn about curriculums, techniques, lessons, & tools to create a space for all students to activley engage, embrace, & soar as creative probelm solvers.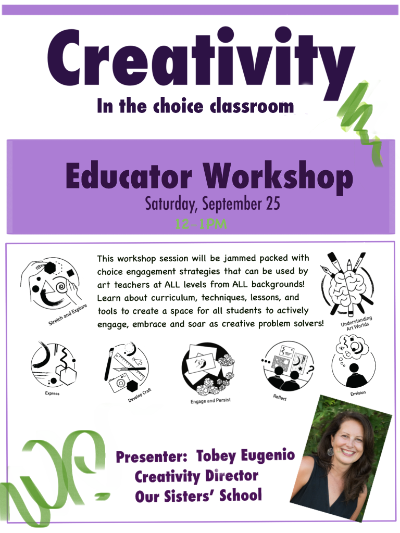 Tobey Eugenio works at Our Sisters' School as the Creativity Director, leading the visual arts, STEAM Lab, and Dendrites programs. She also works as our Outdoor Classroom coordinator and co-student council advisor. Holding a B.A. from Emmanuel College with a double major in arts and elementary education, as well as a M.Ed. from Lesley University with a concentration in curriculum instruction, she has over 25 years of experience as an educator spanning pre-school to collegiate levels in public and independent school settings. Outside OSS, Tobey also works as a curriculum specialist, educational consultant and outdoor classroom designer. Passionate about providing learning experiences centered on choice and voice and agency, she works to inspire her students' intrinsic sense of wonder and desire to make a difference in their world. A lover of the brain, nature, advocacy and most especially her family, Tobey strives to spend every moment making meaningful memories while empowering her students to be "thinkers" and celebrators of life!