June 30, 2021
@
1:30 pm
–
3:30 pm
Did you know the National Park Service has over 50 artist residencies in national parks, monuments, and historical sites across the country? Would you like to know more about the programs and how you might become a resident artist? This workshop is for you.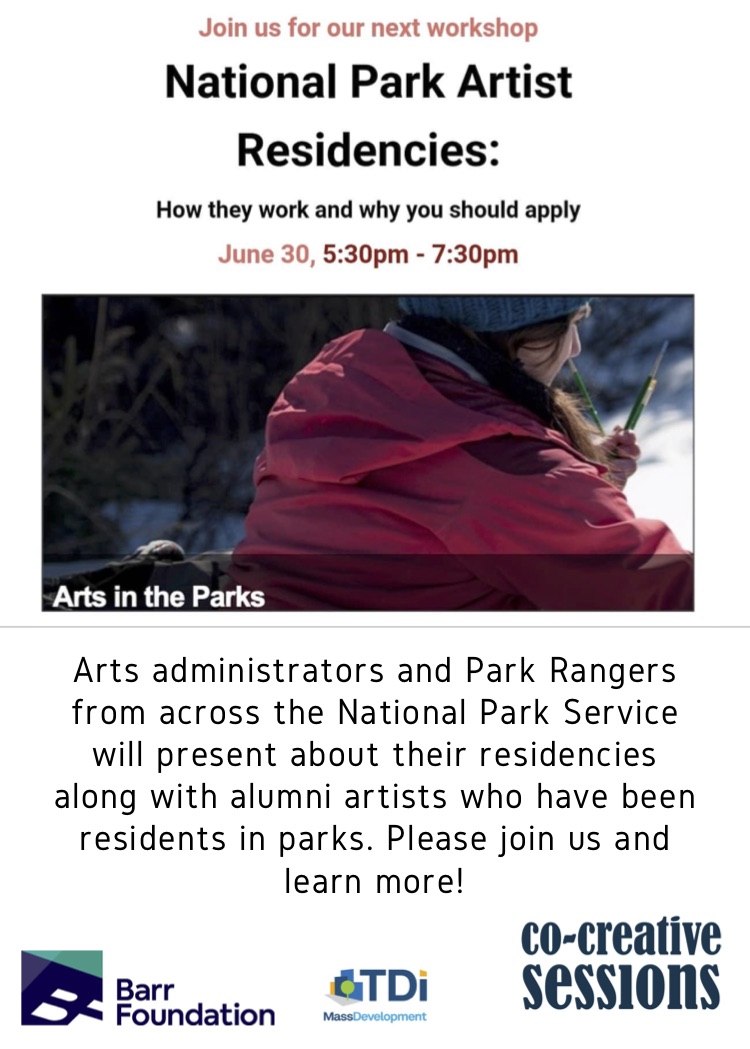 Arts administrators and Park Rangers from across the National Park Service will present about their residencies along with alumni artists who have been residents in parks. Please join us and learn more!
The program is free and will be held on Zoom. You must register in advance. After registering, you will receive a confirmation email containing information about joining the meeting
Practice Best Practice
774 279-2606
Thanks to our generous funders. This program is supported in part by grants from Rockland Trust Charitable Foundation and the New Bedford, Fall River, Dartmouth & Fairhaven Local Cultural Councils, local agencies which are supported by the Mass Cultural Council, a state agency and New Bedford Creative.
Presenters
Lindsay Compton, park ranger and arts administrator, New Bedford Whaling National Historic Park. With a background in studio art, public land management, and education, she has worked toward bridging the gap between public art and national parks for the last ten years. She created Artist in Residence programs at Congaree National Park in South Carolina and San Antonio Missions National Historical Park in Texas. In 2017 and 2018, she served on the curatorial committee for Luminaria Contemporary Arts Festival in San Antonio, TX. She has facilitated Artist in Residence selections for Weir Farm National Historical Site, as well as mentoring other budding residency programs within the National Park Service. Since August 2019, she has served as the Arts and Youth Coordinator at New Bedford Whaling National Historical Park.
Fitzcarmel LaMarre, Artist-in-Residence Alumni, New Bedford Whaling National Historical Park. Fitzcarmel LaMarre, Artist-in-Residence Alumni, New Bedford Whaling National Historical Park. Fitz is an artist, collaborator, and community mentor. Trained in graphic design, his love for realism is very evident in his paintings and murals. He enjoys the creation of graphic novels to play with realism and fantasy; a place where he can have complete control over the boundaries. By mimicking traditional styles and studying new trends, his style is all his own. This style, along with humor, and proficient execution, encourages the viewer to think beyond the image in front of them.
Kristin Lessard, Visitor Experience Program Manager, Weir Farm National Historical Park in CT: Kristin Lessard has worked for the National Park Service since 2008, serving in varied professional roles across multiple disciplines including Resource Interpretation, Education, Public Affairs, Project Management, and Youth and Volunteer Engagement. In her current position as Program Manager of Interpretation, Education, and Volunteers at Weir Farm National Historical Park, Kristin oversees the park's visitor service operations and engagement initiatives, which include history and fine art education programming for approximately 40,000 visitors a year, as well as dynamic youth and volunteer programs.
Alissa Siegal, Artist-in-Residence Alumni, Weir Farm National Historical Park: Alissa Siegal is a Connecticut based artist and creator. Her work centers around the natural world, and explores tensions between chaos and order. She has a BFA from the Rhode Island School of Design & an MFA from the New York Academy of Art, and was Weir Farm's September 2019 Artist-in- Residence. Recent work includes a mural for the Bennett Cancer Center and a developing mural project with high school students for Stamford.
Jay Elhard, Park Ranger and coordinator for AIR program, Acadia National Park in Maine: Jay Elhard has worked since 2008 as an Interpretive Media Specialist at Acadia, Denali, and Yellowstone National Parks. For more than 10 years, he also has managed Artist-in-Residence programs as a collateral duty at Acadia and Denali. He worked previously for 15 years in newspaper journalism, publishing, and briefly as a community college instructor in Ohio. He holds a BA in English (professional writing) and art, and an MFA in nonfiction writing.
Deborah Bouchette, Artist-in-Residence Alumni, Denali National Park in Alaska: Dr. Deborah Bouchette was born into a family of engineers, and she eventually found more than one career in computer science. First she taught at Ball State University and Pacific University, and then she became a technical writer and program manager at Intel Corp., working with companies across the world. But when her family downsized to two, she decided to pursue art: ceramics at first, then painting and drawing. Through a couple of serendipitous events in the 1980s, Deborah and family moved from the midwest to the northwest, designed and built her home, and fell in love with the plush green biosphere and its natural inhabitants. Now, at the ripe age of retirement, this year Deborah finally earned her PhD in the philosophy of art, writing on the topic of artist residencies as a little-known resource for world-wide peacemaking, which is especially relevant and needed in the fractured living environments we suffer today.