July 8, 2022
@
5:00 pm
–
7:00 pm
The 5 Pillars of Hip Hop Presentation by 3rd Eye Youth Empowerment and Peter Walker
Online and in person
The pillars are a foundation for community engagement DJ/Breaking/Graffiti/MC/Knowledge
Pillar #1 – Dj'ing – history of the DJ and then an example of a scratch and blend and a call to the audience to engage with the performance.
Pillar #2 – Breaking – history of Break dancing and a live example to the audience capped off with a small hand "tutting" tutorial.
Pillar #3 – Graffiti – breaking down the importance of this pillar while expressing the evolution of Graffiti into the canvas of visual arts overall.
Pillar #4 – MC'ing – the significance of this role in the pillars being the community energy source when the pillars are activated. Capped off with a cool call!
Pillar #5 – Knowledge – breaking down the importance of this pillar and how combined with the other pillars are a roadmap to utility, mental and physical health, and a way to put action behind our energy towards a better, safer, community for everyone.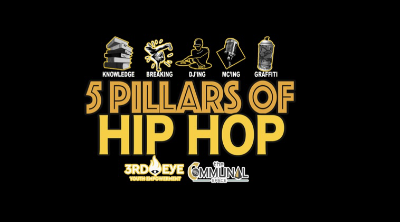 Co-Creative Sessions is a free and accessible online series geared to enrich, educate and connect creatives through a series of workshops and training sessions. New Bedford is the home of artists, creatives, change makers, designers, entrepreneurs and community enthusiasts and the Co-Creative Session embraces the pulse that makes New Bedford so unique while expanding our knowledge and connections!
Funded by MassDevelopment/TDI and the Barr Foundation, this program is one component of a broader "TDI Creative Cities" initiative to boost arts-based economic development.
https://www.eventbrite.com/e/the-5-pillars-of-hip-hop-peter-walker-tickets-339005553737