with Samia Walker
August 23
@
6:00 pm
–
8:00 pm
Artists see possibilities everywhere. Monetizing talent, however, is a daunting task for an artist. At EforAll , we recognize that creating a sustainable life in the arts is complicated, that there is no singular approach to building a creative enterprise, that it doesn't happen quickly, and that success has its roots in relationship-building. ARTrepreneurs are leaders in the creative economy. Their innovation powers the engine of growth and community vitality. ARTrepreneurs produce and distribute goods and services that generate jobs, revenue, and quality of life. Our mission is to ensure creatives have the knowledge and practical skills to have sustainable careers in our changing economic times.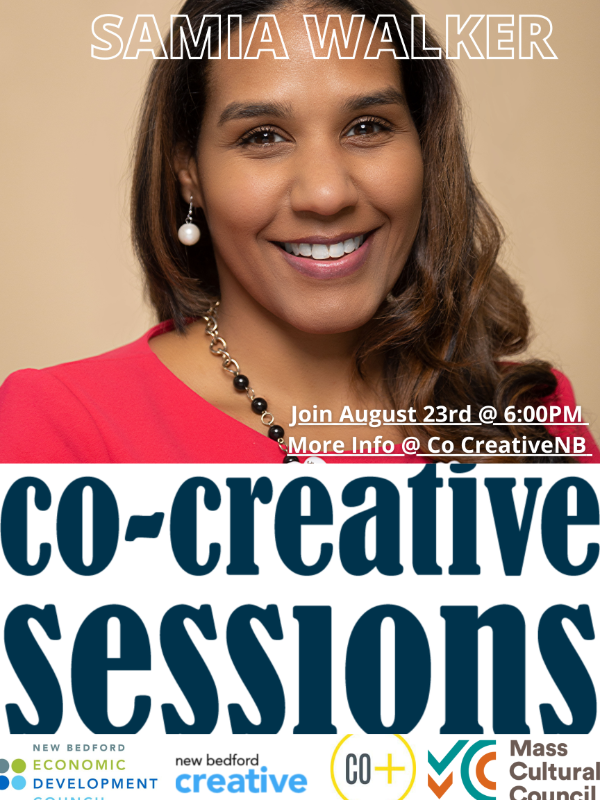 Co-Creative Sessions is a free and accessible online series geared to enrich, educate and connect creatives through a series of workshops and training sessions. New Bedford is the home of artists, creatives, change makers, designers, entrepreneurs and community enthusiasts and the Co-Creative Session embraces the pulse that makes New Bedford so unique while expanding our knowledge and connections!
With great thanks, this program is funded and supported by the Mass Cultural Council, New Bedford Economic Development Council and NB Creative.