October 19, 2022
@
5:00 pm
–
7:00 pm
If the title of this workshop makes you tense up, you are in the right place. Whether creating an exhibition proposal, artist statement, grant application or speaking to an interested viewer, communicating about your art efficiently and authentically can feel completely overwhelming. This workshop will broach the impossible— or at least the daunting and at times tedious. It will open up the writing process as a creative process and make space to generate new channels of understanding. We'll outline strategies of translating the physical experience of your art into words and also debunk some of the misconceptions surrounding art writing formalities.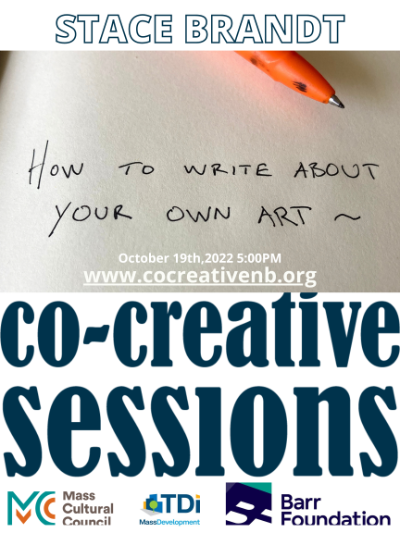 Co-Creative Sessions is a free and accessible online series geared to enrich, educate and connect creatives through a series of workshops and training sessions. New Bedford is the home of artists, creatives, change makers, designers, entrepreneurs and community enthusiasts and the Co-Creative Session embraces the pulse that makes New Bedford so unique while expanding our knowledge and connections!
Funded by MassDevelopment/TDI and the Barr Foundation, this program is one component of a broader "TDI Creative Cities" initiative to boost arts-based economic development.
https://www.eventbrite.com/e/writing-about-your-art-stace-brandt-tickets-421801799537
Stace Brandt (they/she) is an interdisciplinary arts writer. They are the co-director and co-curator of VERY, an artist-run gallery and exhibition space in the South End of Boston. Stace's writing has appeared in print and online publications including Art New England, Big Red & Shiny, and WMN Zine. Their most recent work surrounds creative content and narrative strategies for independent artists and organizations, taking the form of funding proposals, curatorial statements, web design, and more.