Divulgences – Opening Reception
October 13, 2022
@
5:00 pm
–
8:00 pm
I am very interested in trees. Their graceful lines bridge earth and sky, and at a shrunken scale, they resemble dendritic nerve cells in our brains and bronchioles in the lungs, tiny "trees" inside our bodies.
Recently I was delighted to learn that trees communicate with each other. Trees partner with fungi to form mycorrhizal connections with their roots, and this "wood wide web" sends and receives information and shared nutrient resources under the forest floor. They also send signals through the air via chemical messages. Visualizing this shared network fills my mind with thrilling possibilities, real and imagined.
My drawings, prints, and paintings explore connections and communications between and within individuals. Landscapes become mindscapes. The divulgences of trees become linked with what we share with each other and how we connect to our ecosystem and our universe.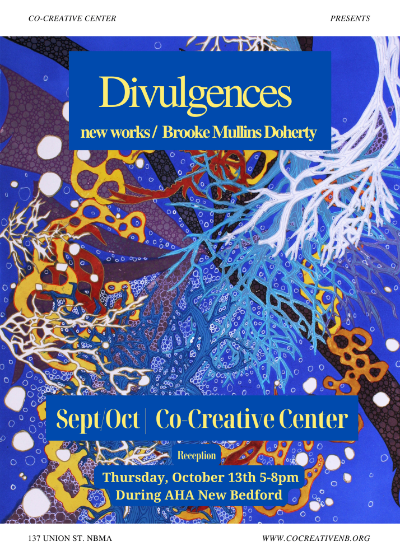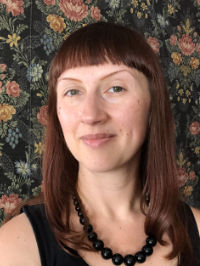 Brooke Mullins Doherty's sculptures, drawings, and prints have been exhibited in numerous solo and group exhibitions. She has had solo shows at the New Bedford Art Museum, S&G Project Gallery and Colo Colo Gallery in New Bedford, Leslie Powell Gallery in Lawton, Oklahoma, Anderson Gallery at Bridgewater State University, Frame 301 at Montserrat College of Art in Beverly, Massachusetts, 80 Border Street Cultural Exchange in East Boston, and the Student Union Art Gallery at the University of Massachusetts. She has also created sculptural commissions for the Old Colony YMCA in Brockton, Massachusetts; The Naked Oyster in Hyannis, Massachusetts; Providence Community Acupuncture; and The Spot in Providence, Rhode Island.
Currently residing in Fall River and teaching at Bristol Community College, Lasell University, Cape Cod Community College, and the Community College of Rhode Island, Brooke Mullins Doherty has also taught sculpture courses at the University of Massachusetts, Dartmouth.
Brooke Mullins Doherty was born in Lawton, Oklahoma in 1981. She received her MFA in Sculpture from the of University of Massachusetts, Dartmouth, and her BFA in Studio Art from the University of Oklahoma. She also holds a BA in Philosophy and minors in Art History and Psychology from the University of Oklahoma.
Related Events