Drawing the Beauty Around Us
August 10, 2021
@
5:00 pm
–
7:00 pm
In this workshop, students will work with use graphite, soft vine charcoal, newsprint paper, and erasers to learn the tools of fundamental observation. We will take a look at how complex forms can be broken down into basic shapes, learning about measuring tools, and learn about the world of light and shadow properties to model those forms. We will take a look at other artists works to see how they explored shape, tone and mark making to capture aspects of their world. Students will walk away with a small set of completed studies of still life and nature.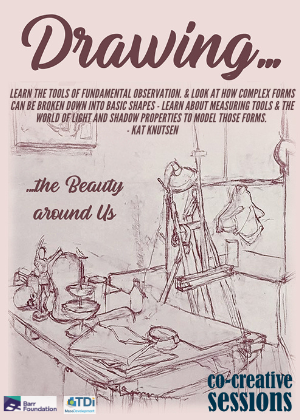 Co Creative Center New Bedford
Kat Knutsen is an artist based in New Bedford with a background in drawing, painting and animation. She was one of the animators for the Oscar nominated film 'Loving Vincent' and the artist who designed and led the making of the Jazz Mural in downtown New Bedford. She has a passion for image-making, design, teaching, and art production. You can find more of her work on her website.