September 20
@
6:00 pm
–
8:00 pm
Matt Mignanelli's paintings are composed of gradated fields of blue, gestural dissections, and geometric forms inspired by light, shadow, and architectural elements. Informed by the urban landscape and vistas from the natural world these works examine the duality of modern life with emotional complexity. Mignanelli's process combines incredibly detailed, methodical hand-painting, with references to utilitarian painting applications in municipal and industrial contexts, abutted by fields of aqueous and luminescent color.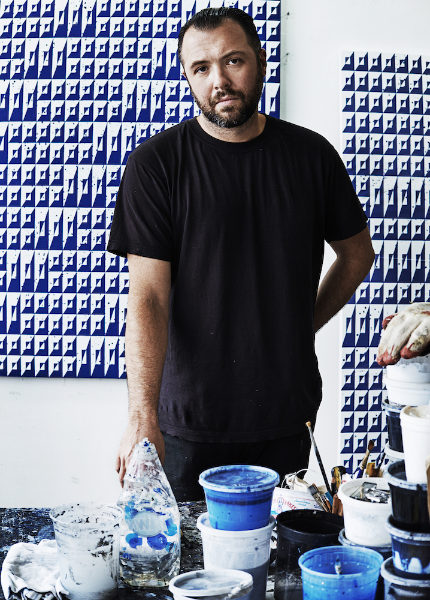 Equally important to Mignanelli's practice is the examination of the potential and power of the monochrome. In particular, his work embraces a deep saturation of the color blue. While at first glance the paintings appear transporting, with stacks of brick-like forms set against the intense color of the enamel house paint, further inspection reveals a thoughtful engagement with light and shadow, depth and density, and spatial perception. Through the use of enamel and the color blue which appears on mailboxes, these functional uses of paint within the urban environment are continually referenced. Freely exploring permutations of form and recording the element of chance associated with my freehand process in organically accumulated splashes and drips of paint on the painting's surface, brings forth a sense of freedom. The spontaneity that emerges makes the paintings feel alive.
Creating paintings within a strict set of parameters has defined Mignanelli's project, and is a pursuit of purity through thought and a constant evaluation of space and emotion. The works aspire to continue that investigation and push the understanding of what it means to visualize feelings in paint.
Co-Creative Sessions is a free and accessible online series geared to enrich, educate and connect creatives through a series of workshops and training sessions. New Bedford is the home of artists, creatives, change makers, designers, entrepreneurs and community enthusiasts and the Co-Creative Session embraces the pulse that makes New Bedford so unique while expanding our knowledge and connections!
With great thanks, this program is funded and supported by the Mass Cultural Council, New Bedford Economic Development Council and NB Creative.