July 12
@
8:00 am
–
5:00 pm
Join cartoonist Cara Bean in this hands-on, visual thinking, mindfulness workshop. Cara walks participants through a series of creative exercises intended to lessen anxiety, build confidence, and grow creativity. Together, you'll go over the basics of communicative cartooning (stick figures allowed!) and develop the skills needed to doodle as a form of play and problem-solving.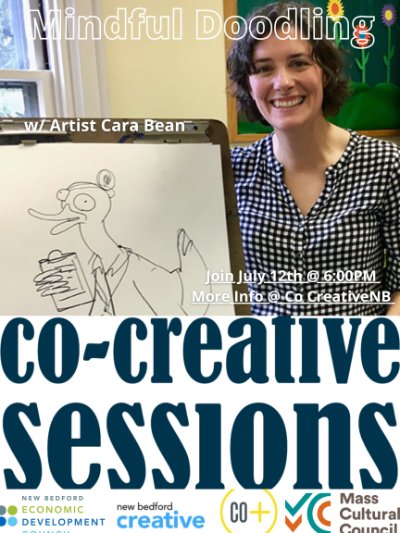 Co-Creative Sessions is a free and accessible online series geared to enrich, educate and connect creatives through a series of workshops and training sessions. New Bedford is the home of artists, creatives, change makers, designers, entrepreneurs and community enthusiasts and the Co-Creative Session embraces the pulse that makes New Bedford so unique while expanding our knowledge and connections!
With great thanks, this program is funded and supported by the Mass Cultural Council, New Bedford Economic Development Council and NB Creative.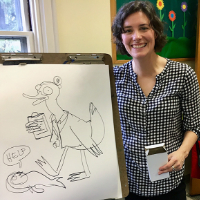 Cara Bean is a cartoonist and art educator, specializing in comics about mental health and mindfulness drawing workshops. Her comic works include Snake Pit: Notes on Adolescent Depression and Suicide and Let's Talk About It: A Graphic Guide to Mental Health. Her current project Here I Am, I Am Me is a deep dive into mental health concepts for a child audience and will be released in March 2024 from Workman Publishing. In her workshops, Cara guides participants through drawing and writing exercises designed to boost their confidence and creativity. She gets participants excited about how the beginning of a complex idea can emerge from the simple act of doodling on paper. Visit her website to learn more at https://www.carabeancomics.com/.