July 13
@
5:00 pm
–
August 10
@
8:00 pm
In his first solo exhibition in over seven years, John Jameson presents: "I Am Not My Season", a collection of over 40 paintings portraying the landscapes and seascapes of Southcoast Massachusetts.
"I Am Not My Season" invites viewers to rekindle a mindful connection with the sublime spectacle of nature, bear witness to the passing of time, and find beauty despite encroaching climate anxiety. The lively, realist paintings continue in the tradition of New England's storied landscape artists (namely, Windslow Homer, Childe Hassam, and New Bedford's own Albert Pinkham Ryder).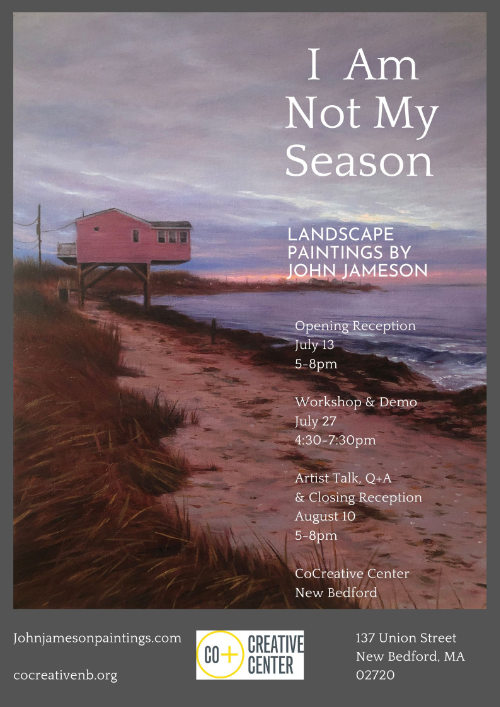 The show at the Co+Creative Center in historic downtown New Bedford begins on July 13, 2023, with an opening reception from 5 pm to 8 pm and concludes on August 10, 2023 with an Artist Talk and Q&A, followed by a closing reception, from 5 pm to 8 pm.
Originally from Somerset, Massachusetts, Jameson is a contemporary artist working in New Bedford who focuses on seascapes and portraiture as his primary subjects. Strong emphasis on color, boldly organized compositions, and rich networks of textured brushwork are hallmarks of Jameson's work. His paintings have been shown in Boston, New York, Newport (Rhode Island), and Kamakura (Japan).
Jameson received his Bachelor's of Fine Arts from the University of Massachusetts Dartmouth and his Master's of Fine Arts from the New York Academy of Art. He has taught painting extensively at various institutions around Massachusetts. He currently teaches foundations drawing at North Shore Community College and landscape painting and color theory for artists, as well as figure drawing from sculptures, at the Museum of Fine Arts in Boston.
Visit Jameson's website for more paintings, as well as short videos on his process. Follow on Instagram.