June 29, 2022
@
5:00 pm
–
7:30 pm
What hourly pay provided to a freelancer amounts to minimum wage for an employee, a living wage or a reasonable professional wage?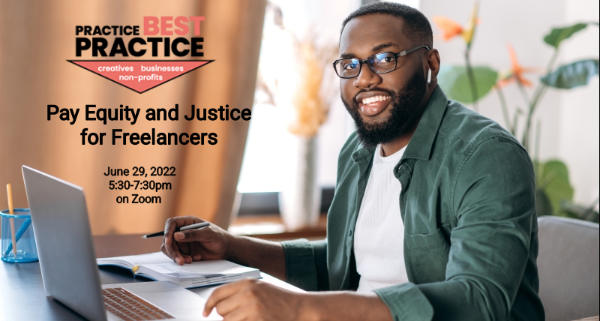 While it is hard to be precise it is possible to create reasonable estimates. We believe that funders, freelancers and the organizations that hire them have a role to play in creating equity and justice in freelancer pay.
This workshop is for freelancers, organizations that hire them and funders who fund freelance pay. It will include discussions of the compensation research, explanations of the various costs freelancers are responsible for that employers cover for wage earners and calculations of the real value of freelance pay when freelance costs for taxes and other benefits are taken into account. It will also cover the rules for classifying a position as freelance or employee. A calculator for translating freelance hourly wage to hourly wage equivalent will also be provided.
The program will be held on Zoom. You must register in advance.
After registering, you will receive a confirmation email containing information about joining the workshop.
Thanks to our generous funders. This program is supported in part by grants from the Co-Creative Sessions, Rockland Trust Charitable Foundation and the New Bedford, Middleborough, Acushnet & Dartmouth Local Cultural Councils, local agencies which are supported by the Mass Cultural Council, a state agency.
Eric Esteves, Executive Director, The Lenny Zakim Fund
Eric A philanthropist, educator, artist, community advocate, and technologist, Executive Director Eric Esteves previously served as Director of the Social Innovation Fund at The Boston Foundation. He also served as a consultant for Root Cause, Harvard Business School's Interpersonal Skills Development Lab, and the Boston Impact Initiative. In 2019, he co-directed LeadBoston, an experiential professional development program focused on socially responsible leadership, based at YW Boston. Eric received both his undergraduate degree in Business Administration and his graduate degree in Information Systems from Northeastern University. A resident of Roxbury, he spent the early part of his career in educational technology, including leadership roles at Lesley University and Boston Public Schools. Eric gets excited about the usual things; trivia, hip-hop, kayaking, genealogy, politics, social justice, photography, poetry, sweet potato pie, and to-do lists.Nirali Patel, ABA Legal Fellow, LITC, Greater Boston Legal ServicesDenn Santoro, Program Manger for Practice Best Practice Although he is a working fine art photographer, his background and career experience is wildly varied. From an early career in human services to a stint in politics and a couple of decades in policy development in childrens' services and health care he has worn many professional hats. He started his own consulting company a couple of years out of college, first doing policy development and management consulting, then moving into database development. Basically, everything was centered around his nature as a problem solver. He continues to run the consulting company and his other small businesses as well. Over the years he has learned a lot about running businesses, being a working artist and how to avoid being taken advantage of as an artist and a freelancer.